New Solar Technology Helps Homeowners Save Money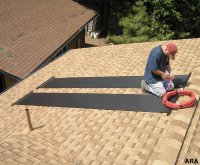 (ARA) – If you're both eco-conscious and money-conscious, it's time to take a fresh look at solar energy. You could save up to 50 percent on your water heating bills and qualify for federal solar energy tax credits.
Using the sun for renewable energy should begin when you start building a new house, according to the Department of Energy. Design your home to avoid overhead summer sun and to benefit from winter sun in cooler climates. Use skylights and sun tubes. Natural light is easier on the eyes for reading and household tasks and may slow the growth of mold and mildew. According to many realtors, a house suffused with sunlight is more appealing to buyers and can substantially increase its resale value.
Using solar energy for pool heating and for extending your swim season is one of the most attractive options today. Solar heat is more economical over the life of the system than a pool heater that uses electricity, fuel oil or propane gas. Compared to other pool heating technologies, a solar pool heating system pays for itself within two to four years. The energy is provided free from the sun, delivers minimal maintenance costs and is clean, safe and quiet. Solar pool heating adds substantial value to your pool and to your home.
Even hot water heaters can now harness the power of the sun. The newest and most innovative way to use the sun's energy is through FAFCO's solar hot water systems. In a 10-year collaboration with the Department of Energy, FAFCO developed Hot2o, the world's first lightweight, affordable, all-polymer, do-it-yourself solar hot water system designed to reduce water heating bills by about half.
'The debut of this technology marks a significant milestone in the history of solar energy because of the potential savings to consumers worldwide and the ability to reduce the environmental impact associated with traditional energy sources,' says Freeman A. Ford, Solar Hall of Fame inductee and co-founder of FAFCO Inc. 'Hot2o saves homeowners money and helps them live a little greener.'
The Hot2o solar hot water system replaces heavy, expensive and difficult-to-ship glazed copper collectors with lightweight, inexpensive and easy-to-ship polymer collectors. Hot2o is designed to work with any conventional residential hot water tank. The entire system fits in a single box and weighs less than 62 pounds. The system can be safely deployed on a roof by a single person using typical household tools.
Homeowners can begin seeing a return on investment as soon as the system is installed. Hot2o typically pays for itself in less than five years, as compared to 10 to 20 years with traditional glazed copper solar hot water systems.
The Department of Energy estimates that an average household with an electric water heater spends about 25 percent of its home energy costs on heating water. Electricity generated by fossil fuels for a single home puts more carbon dioxide into the air than two average cars. Continuing to use traditional energy resources to generate household power and heat hot water is a heavy burden both financially and environmentally.
Homeowners who invest in solar energy systems for generating electricity or heating water can qualify for a 30 percent federal solar energy tax credit under the Tax Relief and Health Care Act of 2006, which was extended through 2008
For homeowners who want to protect the environment – and save a few dollars in the process – it's time to take another look at solar energy. For more information, visit www.hot2o.com and www.fafco.com.
Courtesy of ARAcontent