Roadwork On Highway 49, 108, and 120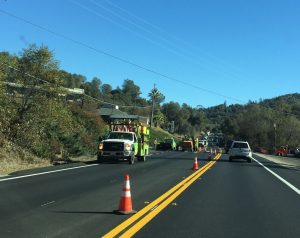 Traffic backup between Jamestown and Sonora due to Caltrans work Dec 7 2017

View Photos
The geophysical survey work will continue to impact traffic on North Washington Street near Sonora High School, and along nearby Highway 49 through Wednesday. The evening work is scheduled between 8:30 PM and 7 AM as detailed here. Expect cones and equipment near the Tuolumne County District Attorney's office at 423 N Washington Street.
Caltrans has several areas of road work  planned. The detailed schedule of work below may change due to weather, traffic, availability of equipment, and other issues.
As reported Caltrans is ready to rumble on Highway 108 with crews installing  a center line of striping and shoulder rumble strips along a total of 27 miles on Highway 108 in Tuolumne County that will begin this week and wrap up sometime this summer. The overnight work this week starts Monday through Friday from 8 PM until 6 AM. Daytime hours will be in place for the Twain Harte to Strawberry section with the hours of operation from 6 AM to 6 PM weekdays, with Friday's shift ending at 3 PM to free the roads for weekend visitors. The three locations are:
From HWY 49/108 junction (Stockton Street intersection) to Draper Mine Road, about 6 miles
A half-mile west of Twain Harte Drive and Tuolumne Road North intersection to Stoddard Springs, about 12 miles
From Bald Mountain Heliport Road to a half-mile west of Herring Creek Lane in the Strawberry area, about 9 miles
Higher up Highway 108 near Confidence from Leisure Pines Road and Confidence Road one-way traffic control for utility work may cause five-minute delays. The work is scheduled for Monday and Tuesday from 7 AM to 5 PM.
Caltrans also warns Tuesday through Friday there will be areas of one-way traffic control for shoulder work from Chinese Camp all the way to the Highway 49 Stevenot Bridge over New Melones. The work is scheduled to begin each morning at 7:30 AM and end at 3:30 PM causing 10 minute delays.
Also in Chinese Camp at the Highway 49 and 120 intersection, and along HWY 49 to Crown Lead Road, expect to see drainage work on the left and right shoulder of the road. The work is scheduled Monday through Friday from 7:30 AM to 3:30 PM.
On Highway 49, at the Sonora Creek Bridge, be aware of work on the road's shoulder. The long-term shoulder work began April 3 and is scheduled through April 30. The Caltrans crew's scheduled hours are 7 AM to 4 PM.
As reported in the news story, Proactive Measures To Prevent Landslides, work on Highway 120 five miles east of Buck Meadows began last week and will continue this week. The hours are from 7:00 AM to 5:00 PM ending Friday at 3:00 PM. The project is expected to wrap up sometime in June.
Midsummer Bridge Work is planned get the full details here.
Also be aware that Tuolumne County will be out on local roads spraying as covered in the news story Weeds Be Gone In Tuolumne County.
Highway 26 is reopened after nine weeks of repair related to storm damage but utility work South of West Point is scheduled to close one lane on Tuesday from 7AM to 5PM.