State Road Repairs Cost Hit One Billion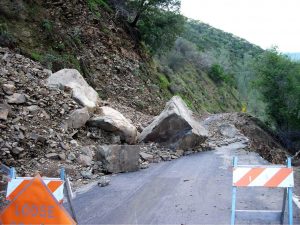 Archive Photo - 2017 Rockslide On Marshes Flat Road

View Photos
Sacramento, CA — The California Department of Transportation (DOT) has reached a new milestone, but it is not one to celebrate.
DOT officials say highway damage from winter storms that ravaged the state have surpassed the one billion dollar mark for the first time in California history. That announcement came Tuesday by DOT officials who stress the assessment is just preliminary and costs continue to rise. Last year's roadway destruction was a devastating $660 million total. Noted also by state transportation officials is that this year's initial estimate does not include a massive weekend landslide that wiped out part of Highway 1 in Big Sur.
The Mother Lode costs are also figuring into the state's numbers. Tuolumne County road officials in February predicted weather related repairs for just two roads would add up to more than $4-million. As reported here earlier this month, the county is still tabulating the total price tag for road maintenance.
Last month Calaveras County officials estimated nearly $60 million in repairs to roadways in the Butte Fire burn scar alone.