State Roadway Repairs Climbing To Hundreds Of Million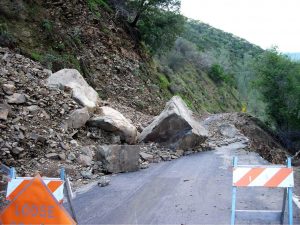 Archive Photo - 2017 Rockslide On Marshes Flat Road

View Photos
Fresno, CA — Caltrans is facing a bumpy ride ahead as it faces mounting repair cost due to a series of winter storms.
On Friday Caltrans announced the latest statewide damage estimates at nearly $600 million. Record storms throughout California have washed out roads and buried others in rockslides. The price tag from just two stormy months more than doubles the state's budget for emergency road repairs, according to Caltrans. While crews are still busy making repairs to other infrastructure, California Office of Emergency Services officials say they will have to wait until the state dries out to determine the total damage cost.
In Tuolumne County, roads officials had estimate a $4-million dollar charge to fix two flooded roads but have no total for all the damaged roadways, as reported here.