Attendance Down But Calaveras Fair Deemed A Success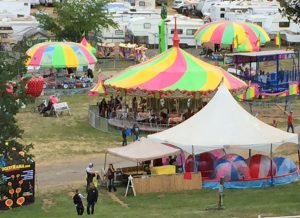 Calaveras-County-Fair-Carnival-Rides-Friday-noon-May 20, 2016
Angels Camp, CA — The 2016 Calaveras County Fair and Jumping Frog Jubilee drew 31,000 people this year, according to fair officials.
Last year the fair drew just over 33,000. The drop in attendance is being attributed to less than ideal weather, as light rain fell at various times over the weekend. That said, the Livestock Auction brought in over $500,000 to help support local youth in the county. We reported previously that the amount raised in 2015 was closer to $415,000. This year's fair had the traditional popular attractions and live entertainment. Fair officials report that Sunday was the most attended and visitors saw Morgan Kitchell, and her frog "Ribbit This," take home top honors at the International Frog Jump competition. Other popular events included the Destruction Derby and live music
Also of note, Makayla Ruthrauff was this year's Miss Calaveras Scholarship winner and Kiefer Minehart was named the 2016 Calaveras Idol winner.
The fair started Thursday and concluded Sunday.