Informal Mother Lode Poll Puts Sanders Ahead Of Trump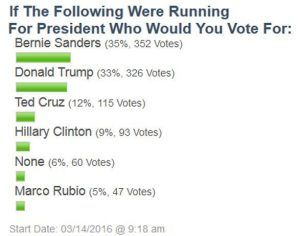 MML informal Poll of Presidential Candidates

View Photos
An Informal myMotherLode poll asked if Bernie Sanders, Donald Trump, Hillary Clinton and Marco Rubio were all running for president who would you vote for? With over 990 votes in 25 hours Sanders won by 2 percent more than Trump. Sanders received 35 percent; Trump came in second with 33 percent; Cruz, 12 percent; Clinton had only 9 percent, and Rubio got 5 percent which was one percent less than all those who voted for none of those listed.
Sunday there is a Rally for Bernie Sanders at the intersection of Mono Way and Sanguinetti Road. Voter registration and tables will be set up for people to meet local Bernie supporters and get information about his position on issues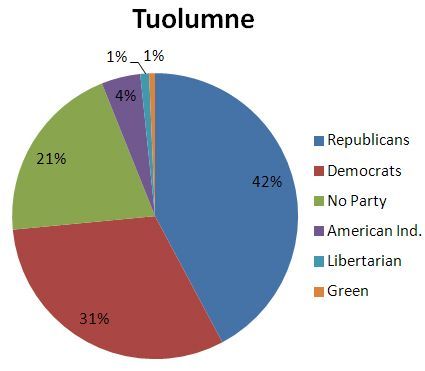 , and how he plans to pay for his proposals.
Full details about Tuolume and Calaveras voter registration are in the February news story "State Continues to Heavily Lean Democrat: Mother Lode Republican Territory" here. As of February 29th the Tuolumne County voter registration has 41 percent of voters registered as republicans and 31 percent registered as Democrats (see chart).  A full 21 percent are registered with no party.
Currently, in order to vote in California's Republican primary, you must be a registered member of the GOP. However, the Democrats, Libertarians and American Independent Parties allow "decline to state" voters to take part in their primaries. More about a plan to allow the same in the republican primary is here.
Another informal myMotherLode poll asked "Is Kelly Wooster's Apology For The Racial Comment About People From Mexico Enough?" 57 percent said yes, 28 percent said no and 15 percent didn't know. California's Secretary of State recently criticized the controversial comments as detailed in the news story here. The Calaveras Board of Supervisors also released information addressed the incident here.