Calaveras To Address Lake Tulloch Draw Down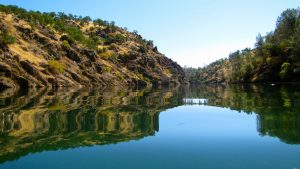 Lake Tulloch

View Photos
San Andreas, CA – The possible tapping of Lake Tulloch waters as soon as this summer for downstream fish and farm relief will be the subject of a special Board of Supervisors meeting Tuesday, March 3.
Looking to address the facts and put a plug in swirling rumors over the potential move, Calaveras County Administrative Officer Shirley Ryan explains, "We're just trying to get as much information as we can, and if the board wants to adopt a resolution in support of the efforts of our local agencies and the people that are going to be impacted." She adds, "And it's a chance for the public, if they want talk about their concerns of what's going on down there, obviously they're welcome – it's an open board meeting."
She confides, "Right at this moment, we're still in the process of gathering information about the issue so we're not really sure exactly what the item is going to look at, at this time." As the board is legally required to post its meeting agenda 24 hours in advance, details will be available on the county's website by 9 a.m. Monday morning, March 2. It is likely that the Lake Tulloch water situation will be the only item on the agenda, barring a possible brief consent item regarding an appointment to a committee or commission, according to Ryan. For members of the public interested in attending, the meeting will begin at 9 a.m. in the government center (891 Mountain Ranch Road, San Andreas).
As reported earlier, Tri-Dam Project partners, the Oakdale Irrigation District (OID) and South San Joaquin Irrigation District (SSJID) sent letters earlier this month to notify Lake Tulloch homeowners that, due to worsening drought effects, legal paperwork clearing the way to tap the lake waters was in process.  In a subsequent follow up story, Calaveras County Water District (CCWD) officials indicated they had not received official notice about the potential action, stating that it affects approximately 2,500 Copperopolis customers and would require extending the intake pipe system, at a minimum cost of $100,000.
Congressman Tom McClintock, in another myMotherLode story, says he is trying to stop a similar water release this April at New Melones and calls drawing down Lake Tulloch "an outrageous running amok of environmental law."