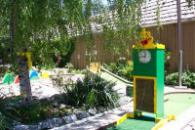 Twain Harte Miniature Golf Course has been a family summer tradition for generations. And now, in honor it it's 64th season, people will have a chance to putt the challenging greens in the spring and fall as well. Since opening in 1953 the course has seen little changes, maintaining that timeless, classic vibe. During these years the course has only gone through three owners. The Knudson's, who had been operating the course for 29 years, sold it to Thomas and Courtney Atkins at the end of the 2012 season. During the spring and falls non-business hours, the course is available to rent for private parties. For more information, call 586-5569. Or visit Twain Harte Miniature Golf's Facebook page.
Fall/Spring Hours (depending on weather and fall leaves):
Friday: 5 to 8 p.m.
Saturday: noon to 8 p.m.
Sunday: noon to 6 p.m.
Summer Hours (starting in early June):
Open every day 10 a.m. to 9:30 p.m. (except Sundays it opens at noon)