Outdoor Family Fun
In Mother Lode, reconnecting with your family is easy. Maybe it is the pristine mountain air or the friendly small town hospitality.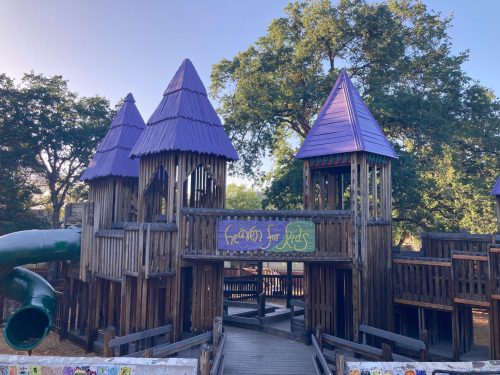 Or maybe it's the abundance of exciting and educational activities designed just for families. Whatever the reason, the Mother Lode has a lot to offer.
We have a variety of outdoor activities that kids love: jump in a mountain lake, visit a limestone cavern, mountain bike on a rugged trail, ride a horse, or go sledding!
And don't leave Mother Lode without visiting Columbia State Park, where your kids will experience what it took to live in a real gold mining town.
For young children the Heaven for Kids playground by the County Library in the 49er Rotary Park off Greenley Road in Sonora is the very best. Built in 2000, the large wooden play structure is great for play and games of tag. It was refurbished by volunteers with the non-profit organization Love Tuolumne County in the Spring of 2021. The playground is open to all during daylight hours only. There is a public restroom.
The park has a large picnic area, skate park, and historical mining equipment called the Old Steam Donkey in addition to the wooden play structure with tunnels, slides, a climbing wall, monkey bars, and a tire swing.
891 Mountain Ranch Road
San Andreas, CA 95249
(209) 754-6025 Phone
43 North Green Street
Sonora, CA 95370
(209) 533-5663
8603 Pine Street
Tuolumne, CA 95379
(209) 928-1214 Phone
If you want to stay in the Mother Lode take a look our list of places to stay.
Planning a wedding, conference or other event? Take a look our list of places to host your event.
Tell us about your experience at this place! Contact Us