Sonora High School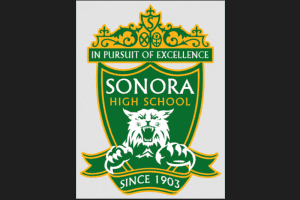 The Sonora High School is a California public school district in Tuolumne County. Columbia, Jamestown, Belleview and Sonora Elementary School are all in the Sonora Union High School District. Details about the town of Sonora, CA are here.
The CIF Sac-Joaquin Section approved Sonora High's sports teams to leave the Valley Oak League and join the Mother Lode League for the 2014-15 school year. The Division V has four leagues with the Mother Lode League having 6 teams: Amador, Argonaut, Bret Harte, Calaveras, Sonora, and Summerville. Linden moved to Division VI.
The CIF Sac-Joaquin Section realignment committee of 12 (9 voting members) did not pass a motion to exclude Sonora's Football team from the switch. A six-year decline in enrollment and travel expenses were sites as factors in the committee's decision.