Eerie Similarities Emerging In Deadman Campground Shooting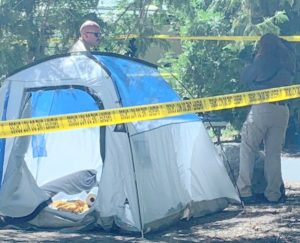 Shooting scene at Deadman Campground in the Stanislaus National Forest

View Photos
Sonora, CA – The man that died in last week's campground shooting in Stanislaus National Forest near Kennedy Meadows was arrested for a similar incident involving children at a Bay Area campground.
Tuolumne County Sheriff's spokesperson Sgt. Andrea Benson relays that detectives have learned that two years ago to the day, 36-year-old Timothy Smith of Watsonville, whose identity was released yesterday and reported here, was arrested after he attempted to enter a tent with children inside at a State Park Campground in San Mateo County. She adds that he was confronted by the parents and an argument ensued. Smith was charged with indecent exposure, annoying or molesting a minor and attempted kidnapping. He later pled guilty to a charge of engaging in lewd conduct in public. Sgt. Benson adds that the "circumstances between these two cases were found to be eerily similar."
Smith was found deceased at the Deadman Campground off of Highway 108 on July 11th, as reported here. During their investigation, detectives discovered that Smith had similarly entered a tent and after a confrontation with a man and a woman inside, he was shot dead, as detailed here. To this date, there have been no arrests.
Sgt. Benson adds that an autopsy on Smith has been completed and they are still awaiting the toxicology report. The investigation remains ongoing.