Update: Man Found Dead Of Gunshot Wound In Tuolumne County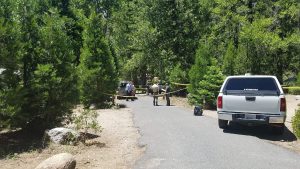 Shooting investigation at Deadman Campground

View Photos
Update at 3 p.m.: The deadly shooting took place early this  morning in the Stanislaus National Forest and spokesperson Diana Fredlund tells Clarke Broadcasting that sheriff's officials contacted her around 8 a.m. She relays, "They had received a report of a man with a gunshot wound at Deadman Campground, which is on the Summit Ranger District. It is a campground that is managed by Kennedy Meadows Resort. Tuolumne County Sheriff's office has the lead on this and they are working with our law enforcement officers."
Fredlund states she has no further details on what transpired regarding the shooting.  For more details please view below.
Original post at 1:30 p.m.: Tuolumne County, CA – Tuolumne County Sheriff's officials are actively investigating a shooting that has left one person dead.
Sheriff's dispatch received a call early this morning regarding a possible shooting at a campground off Highway 108 near Kennedy Meadows Road in the Kennedy Meadows area. However, sheriff's officials have not specified which of the two campgrounds in that location, the Baker or Deadman, as being where the shooting took place. The only details released relay that when first responders arrived on the scene, a man was found to be deceased from a gunshot wound and detectives were called to investigate.
Currently, no arrests have been made, but sheriff's officials advise that all individuals involved in the case are cooperating and no other suspects are being sought. No motive has been given or details regarding exactly what led up to the deadly shooting. Additionally, the deceased name is not being released pending notification of family.
Clarke Broadcasting has reached out to sheriff's officials, but so far there has been no response. It is unclear as to when more details will be released as the investigation is ongoing at this time.
[mapsmarker marker="1800″]