TCSO Details What Led Up To Shooting At Deadman Campground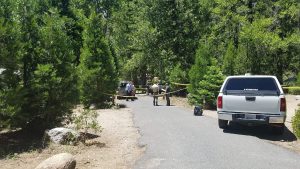 Shooting investigation at Deadman Campground

View Photo
Sonora, CA — Tuolumne County Sheriff's officials completed an initial investigation into yesterday's shooting at the Deadman Campground in the Stanislaus National Forest.
Lt. Deborah Moss says, "Reports indicate that a man and his girlfriend were asleep in their tent when an un-associated 36-year-old Watsonville man entered their tent at approximately 2am. The woman woke up to the Watsonville man on top of her. The woman yelled to wake up her boyfriend who was next to her in the tent. During the ensuing confrontation, the Watsonville man was shot, causing his death."
It is noted that no arrests were made and investigators are working with the District Attorney's Office in relation to the case. Names are being withheld at this time by officials, pending additional investigation and notification of family.
Click here to view an earlier story from yesterday.