Roadwork On Highway 120, 108, 49 And 4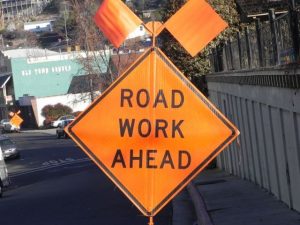 Road Work Ahead

View Photos
Caltrans has several areas of work scheduled this week in the Mother Lode.
Work continues at the Yosemite Junction where a stoplight is being set up as reported here. The work this week is scheduled between 8 a.m. and 4 p.m. Monday through Friday. Also on Highway 108 from O'Byrnes Ferry to the Jamestown area, expect moving closures for pavement work to cause 5 minute delays weekdays from 8 a.m. to 4 p.m.

Caltrans will perform one-way traffic control on northbound and southbound State Route 49 at Woods Creek for bridgework. The work is scheduled at night from Monday through Friday from 8:00 p.m. until 6:00 a.m. Motorists should expect 15-minute delays. Other bridge work on the Stanislaus River Bridge will lead to intermittent one-way traffic control and cause 10-minute delays. The work is scheduled from Monday through Friday from 6 a.m. to 6 p.m.
Highway 108/120 will be completely closed for four days between the intersections of Yosemite Avenue and North Sierra Avenue. Union Pacific Railroad will be making repairs to the tracks just east of where Highway 108 and 120 meet near the stoplight in downtown Oakdale as reported here. A detour on side streets will take vehicles around the railroad tracks, utilizing G Street and Yosemite Avenue. The closure will run from Monday at 8 AM through Friday at 10 AM, Caltrans says 10-minute delays can be expected.
On Highway 108 from the Donnell Rest Area to Clarks Fork Road, traffic will be limited to one lane for grinding operations. The work will delay traffic 10-minutes from Monday through Friday from 8 a.m. to 2:30 p.m.
In Calaveras on Highway 4 beginning Monday, July 8th with the start of construction on Calaveras County Water District's (CCWD) Reach 1 Pipeline Replacement Project. One lane of the highway will be closed along the pipeline that runs between Avery and Forest Meadows. That will create one-way traffic control and force up to 15-minute delays. CCWD officials detail that the project will continue through this fall and stop during the winter. It will pick up again in the spring of 2020 and is anticipated to wrap up in the fall. Project details were released in our news story here.
In Groveland, on HWY 120 from Ferretti Road to Hopper Street, by the Mary Laveroni Community Park, long-term right shoulder work will continue. Crews are scheduled to work around the clock until July 19.
Monday, on Highway 4, utility work in the area of Lakemont Drive and Cedar Lane will limit traffic to one-lane from 8 AM to 5 PM. Caltrans will also have utility work restricting traffic to one lane from 6 AM to 6 PM Monday through Friday from Lashkoff Place to Moran Road.  Traffic may be delayed 10 minutes.

Continuation of the road striping along 43 miles on HWY 4 from the Old Highway Connector to the Calaveras/Alpine County Line, will cause a moving closure of the one-lane and cause 10-minute delays. The work is scheduled Monday through Friday from 6 AM to 6 PM.
On Highway 26 in Calaveras County, Monday and Tuesday there will be utility work from Stone Corral reek to Warren Road. The work will be on the left shoulder. On Hwy 26 at Hwy 49 in the Mokelumne Hill area and the 20 miles to the Calaveras/Amador County Line a road striping operation may cause 10-minute delays. The work is scheduled Monday through Friday from 6 AM to 6 PM.

Caltrans asks motorists to obey signage and flaggers while slowing down around crews and equipment in the cone zones. These road projects are subject to change due to traffic incidents, weather, availability of equipment, and/or materials and construction-related issues.