Home Surveillance Video Led To Burglary Arrest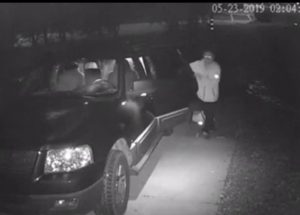 Surveillance video of car break-ins in Jamestown

View Photos
Jamestown, CA – Clarke Broadcasting featured a homeowners security camera footage in a story this weekend showing a thief in the early morning hours opening the doors of an unlocked vehicle on Tenth Street in Jamestown and that led to a break in the case.
The original story, detailed here, warned residents of two other nearby vehicle break-ins on the same day with advice from Tuolumne County Sheriff's spokesperson Sgt. Andrea Benson to lock all doors as it is a crime of opportunity. She relays how the video helped nab the burglar, "A community member saw the video surveillance on myMotherlode.com and was able to call in a tip to our deputies and they were able to determine that Cody Wright was the suspect."
Sgt. Benson also revealed that 29-year-old Wright of Jamestown also admitted that he tried to break into the residence through a side door of an attached garage, but was unable to get inside the home. She adds that the residents were home at the time.
Wright was spotted and arrested on Monday at the Safeway in Sonora. A search of his back pack turned up heroin, drug paraphernalia and several items that he had allegedly stolen earlier in the day from that store and Walmart.
Wright was arrested for possession of a controlled substance, possession of drug paraphernalia and attempted burglary. Sgt. Benson notes that the stolen items were returned to the businesses.
Of note, Wright was arrested this March in a probation compliance raid of a home on Seventh Street in Jamestown where drugs and pepper spray were found, as reported here.