Wildcats Baseball Caps Post Season After Second Round Playoff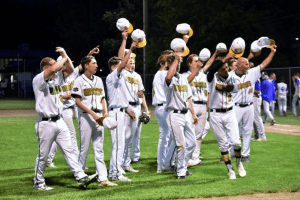 Sonora Varsity Wildcats 1st round win in CIF Sac-Joaquin Div 4 Playoffs 2019

View Photos
Sonora, CA – Despite a heartbreaking loss in the second round of the divisional playoffs, the Sonora High Boys Varsity Wildcats baseball coach considers his team and season a success.
As reported here, on Tuesday, led by pitching ace Tyler Matyshock, the Wildcats won their first round challenge in the CIF Sac-Joaquin Division IV playoffs, shutting out El Dorado 3-0. Coach Chet Winham calls it a sweet "revenge" victory since that team knocked Sonora out of play last season.
Thursday night, the team traveled to play Central Catholic with Josh Dutra, recently promoted to a starting position, throwing the first 80 or so pitches. "He keeps good hitters off balance and some of the hitters from Central Catholic were monsters," Winham recounts. "He did a good job to keep them from hurting us."
The Wildcats drew first blood, scoring a run in the first answered by Central Catholic. Then the game became a defensive pitching battle for four innings. Winham acknowledges his team got a little tired in the fifth inning as their challengers singled, stole a base, took advantage of an errant throw for a score on a sacrifice, and got a walk. While the Wildcats earned another run in the sixth, he says the team could not string together enough hits together to come back, and ultimately lost 4-2.
Strong On Defensive 'Small Ballgame'
Recalling early season challenges, the coach confides, "When we started really working on our small ballgame, that's when we started to score runs and win games. We asked a lot of our pitchers and defense…the kids were asked to play a brand of baseball that is not easy — and they figured it out — and I am very proud of them."
As reported here, Winham sees huge potential in Matyshock, who made the Collegiate Baseball 2019 Pre-season High School All-American First Team of top collegiate prospects.
"He is a fantastic player who is going to go on to play at the next level. He is a 4.0-plus grade-point average with D-1 athletic ability," Winham enthuses. "We are just off the beaten path. He will [probably] go to a junior college, have a season there, and then someone will pick him up."
Winham says his whole team deserves recognition, including assistant coaches, Ricky Pinocchio, Jon Moberg and Josh Schultz, who played a big part. "We had cohesion and a coaching staff that had great camaraderie…made it all come together, and the kids recognized it. It reflected on them and they did the same as a team."