Wildcat Baseball Player Tyler Matyshock Among Top Collegiate Prospects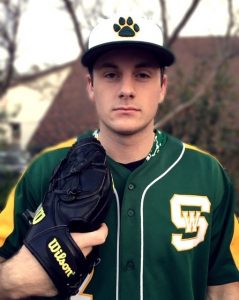 Sonora High Varsity Baseball Player Tyler Matyshock

View Photos
Sonora, CA – A Mother Lode athlete is among hot shot high school baseball players from across the country honored in the latest edition of a national sports publication.
Sonora High senior and Varsity Baseball player Tyler Matyshock is featured along with just over four dozen players across the nation named to the Collegiate Baseball 2019 Pre-season High School All-American First Team of top collegiate prospects. He is also one of 12 players the article spotlighted with a headshot photo.
His coach, Chet Winham, himself a former Division 1 baseball player, describes the 6'2" and 195-pound left-handed pitcher, who also plays first-base and outfield, as "hands down, a next level athlete." Winham, now in his second season of coaching the Wildcats, feels so strongly, he personally recommended Matyshock for consideration; the application was among thousands submitted by coaches. Over the moon when he found out about Matyshock's selection a few days ago, Winham eagerly shared the news with his student-athlete, who is of course, stoked.
"His pitching and offensive stats as a junior are proof of his ability but they do not show his tireless work ethic on and off the field and in the classroom…I will say he is the real deal," Winham enthuses. He continues, "You have to have pretty stellar numbers just to be considered for the honor…all the college coaches in the county and most of the high school coaches are — or should be — a subscriber of Collegiate Baseball."
Stellar Numbers Indeed…And Still 'Uncommitted'
Named the Mother Lode League's Most Outstanding Player, last year Matyshock posted a .613 batting average with 15 doubles, 3 triples, 5 home runs, 36 RBIs, and 14 stolen bases. On the mound, he went 10-1 with .56 ERA, 6 complete games, 24 walks, and 123 strikeouts in 63 innings.
"Tyler's numbers are stellar and it is shocking to me that he is uncommitted. He has no offers from a college at this point and that is pretty much because he came from a small town…from Mariposa…to us. I had him for the year last year and he tore it up," Winham confides. "When you factor in his grade point average — he is a 4.0-plus student because he is taking AP classes — and with his athletic ability, whole attitude towards the sport, the game, and his work ethic – coupled with his grade point average – equals a D1 athlete."
Winham is certain the national exposure will spill what has inadvertently been until now, Sonora Wildcat baseball's' best-kept secret. "I can hardly wait for the phone to start ringing because some lucky college baseball program is going to come up here prospecting and pull this golden nugget of a student-athlete out of the Mother Lode," he predicts.
The story's timing coincides with the beginning of preseason training Winham notes, as the team's pitchers and catchers convene this week. Adding that the Wildcats' first game will be played under the lights Friday, Feb. 22 in Stockton at Stagg High School, Winham says he is highly optimistic about the season ahead, noting the team made the playoffs last year and came up just shy of making to the championship.