Sonora High Baseball Shuts Out El Dorado In Playoff Opener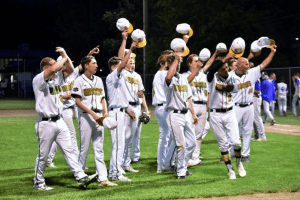 Sonora Varsity Wildcats 1st round win in CIF Sac-Joaquin Div 4 Playoffs 2019

View Photos
Sonora, CA — The Sonora High Wildcats baseball team had a big win last night, as it defeated El Dorado High in the opening round of the CIF Sac Joaquin Division IV playoffs, 3-0.
The team had a strong turnout from the community.
Collegiate prospect Tyler Matyshock pitched seven shutout innings and registered 12 strikeouts for the Wildcats. Tyler Klein, Dalton Cuneo and Rylan Matyshock all had RBI hits. Sonora, the 5th seed, will travel to face 4th seed Central Catholic, tomorrow at 4pm, at Central Catholic in Modesto.
Central Catholic defeated 12th seed Ripon yesterday, 5-2. The winner will go on to face either top seed Los Banos or 8th seed Pioneer on Saturday.