Calaveras County Sees Hike In Tourism Dollars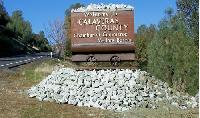 Calaveras County, CA

View Photos
Angels Camp, CA – Calaveras Visitor Bureau officials are thrilled by the recent figures released by the state.
Visit California just put out their economic impact report compiled from taxes collected and it shows a jump in tourism dollars for the county. In 2017, the county's travel spending dollars totaled $196 million and last year's number climbed to $205 million, an almost 4.6 percent increase.
Bureau Executive Director Lisa Boulton points to one area that shined. "Restaurants brought in $46 million this past year. The previous year was $45 million. So, we made a good increase there." It is a spike of just over two percent.
The rise in traffic to the county injected new money into the economy, which in turn allowed for growth in communities with 100 new jobs created. "In 2017, we had 2670 total tourism related jobs and in 2018 that jumped up to 2750." That is a nearly three percent hike for the county.
Visitor spending also generated $5.4 million in local tax revenue last year, providing a stream of revenue to fund local services. While Bolton will be stepping down as director at the end of June she says getting these "good numbers" make her very proud of the job her office has done. She shares this allows her to walk away feeling the office is on steady ground with continued success ahead.
Yesterday, Bolton revealed to Clarke Broadcasting that a six generation Calaveras native, Martin Huberty, will be taking over the post, as reported here with details regarding his work experience and job skills.
Tourism figures are also up in Tuolumne County by five percent, as reported here last week.