Update: Storm Impacted Roads In Calaveras County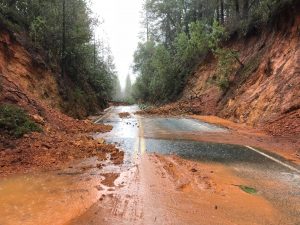 Highway 26 near Mokelumne Hill

View Photos
Update at 7:45 p.m.: The CHP reports that Highway 4 in Calaveras County will remain closed until noon on Saturday near the Caltrans Cabbage Patch station, above Arnold, due to snow. Further road closures can be viewed below.
Update at 12:05pm: There are some additional road closures in Calaveras County to be aware of due to the weather conditions. Highway 4 is closed near the Caltrans Cabbage Patch station, above Arnold, because of snow. In addition, portions of Pool Station Road, Hawver Road and Independence Road remain closed due to flooding and mudslides.
Highway 26, as noted below, is also closed indefinitely.
Original story posted at 7:50am: Calaveras County, CA — Highway 26 remains closed east of Mokelumne Hill due to impacts from the torrential rainfall.
Caltrans spokesperson Warren Alford says, "We've got trees down, about 12 different rock slides, and a fairly significant slide near the south fork of the Mokelumne River Bridge. This stretch of road will be closed for a while and we don't have an estimated time of opening. Please use an alternate route."
The closure could last for multiple days.
Caltrans was able open other notable roadways, such as Highway 49 near Carol Kennedy Road, yesterday afternoon.