Storm Damaged HWY 26 Closure Could Last A Month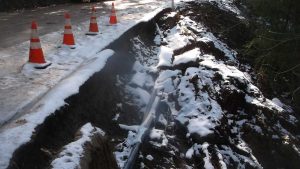 Section of pavement damaged on HWY 26 east of Glencoe

View Photos
West Point, CA – Calling it the "Valentine's Day Deluge" that swamped Calaveras County on February 14th, Caltrans is signaling that extensive damage to a section of Highway 26 will force a longer closure.
As earlier reported here, several sections of the highway were closed during the torrential rains that brought trees crashed down on the highway and a total of 12 rockslides. Crews were able to clear most of these blockages during the storm, except for one. A fairly significant slide near the south fork of the Mokelumne River Bridge caused significant damage forcing the closure east of Glencoe between Deardorff and Woodhouse Mine roads in the northeastern part of Calaveras County. Caltrans spokesperson Warren Alford adds that the destruction was worse that first believed. He details, "Things fell down from up above and slid out from down below. So, we are cleaning off the rocks, boulders and debris that fell down and then we have to rebuild the road sections that slid out."
The extensive damage is forcing a longer shut down of that span, Alford relays, "We're looking at about two to three weeks for the full closure while the repairs are being done on an emergency basis. After that we will try to have one-way traffic control while the repairs are finished and we don't know how long that will be at this point."
A total of $2.4 million has been budgeted for emergency repairs, but Alford says that figure could climb depending on the scope of the work that is needed to make the roadway safe for future public travel.