Flooding Caused Chaotic Afternoon In Sonora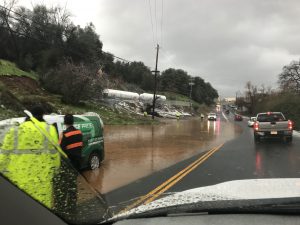 Flooding on Washington Street in Sonora

View Photos
Sonora, CA — During a one-and-a-half hour period on Wednesday afternoon, the Sonora Police Department received 16 calls for service related to flooding.
Click here to view yesterday's detailed story in regards to many of the flooding impacts. Clarke Broadcasting reviewed the police department call logs this morning, and the first 911 call came in at 1:31pm to alert the PD that water from the creek along West Stockton Road was flowing over the bridge and starting to submerge the roadway. Seconds later, there was a report of two vehicles with water up to the top of their wheels on William Street.  At 1:34pm was the first call regarding a heavy stream of water heading down Stewart Street. At 1:36pm a vehicle became trapped in 2-3 feet of water at an intersection along Morningstar Court. At 1:37pm there was water starting to cover the 100 block of Mono Way. At 1:48pm there was a heavy mudslide in front of the Cabrini House on South Washington Street.
Some of the later incidents during the two o'clock hour include additional flooding on Stockton Road, briefly resulting in a full road closure (click here to view a video of a shopping cart floating down the road). There were multiple cars submerged in water on South Barretta Street at the bottom of a dip, heavy water entering the back of the Pine Tree Peddler business on South Washington Street, a flooded vehicle on South Washington Street, a vehicle becoming stranded near the DMV on Morningstar, and flooding near the Greenwood Village apartments on Greenley Road.
There were also many other businesses and homes that received flooding in Sonora, but many incidents did not require police assistance, so they went unreported.
The Tuolumne County Sheriff's Office was also very busy yesterday afternoon, but their logs are not immediately available this morning. The greater Sonora area received the heaviest amount of flood impacts during yesterday's storm system.
To view the latest information on the weather, click here.