Gates Reopen On Old Priest Grade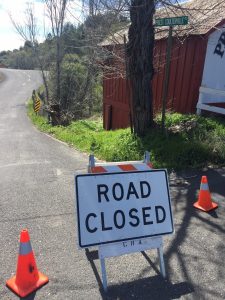 Road Closed at top of Old Priest Grade

View Photos
Moccasin, CA — The entire length of Old Priest Grade was shut down due to hazardous conditions that began on February 4th when the first wave of storms blew through this month.
The closure initially came as a mix of debris littered the roadway. Then it remained shut down for over two weeks as snow and ice created unsafe driving conditions, according to Tuolumne County road officials.  The top and bottom gates were swung open today as warmer temperatures during the day have allowed the roadway to thaw.
Last week's torrential rains caused flooding on Sims Road, forcing its closure between Highway 49 to Highway 120. As reported here, one driver learned the hard way about the dangers of driving through high water. The roadway reopened earlier this week, but was shut down again yesterday (Wednesday) for nearly five hours as crews made storm damage repairs.
As also reported here yesterday, destruction on Highway 26 from the wicked weather last week was more extensive than first believed. The highway is closed east of Glencoe between Deardorff and Woodhouse Mine roads in the northeastern part of Calaveras County. Caltrans expects the closure to last at least three weeks and then switch to one-way traffic control for an undetermined amount of time.