Driver Learns The Hard Way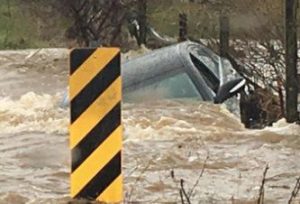 Vechile submerged in flood waters on Sims Road in Chinses Camp area

View Photos
Chinese Camp, CA — Check out the picture in the image box where all that can be seen is part of the roof and a side of the vehicle after the driver decided to chance crossing a flooded Tuolumne County roadway.
Sonora Unit CHP Officer Faustino Pulido details, in this case, the driver disobeyed closure signs on Sims Road between Red Hill Road and Highway 120 in Chinese Camp, putting the man in a life threatening situation. Once he entered the water, Pulido relays, the raging water swept his car away. He cautions, "It only takes a few inches for your vehicle to hydroplane and lose traction." Luckily, the man was able to escape out of the driver side window unharmed, but soaking wet.
Pulido remarks it "could have been deadly." He is concerned that incidents like this one are happening all too frequently on Mother Lode roadways. Just this week, a section of Pool Station Road was closed due to flooding near Riata Way in Calaveras County. The CHP reported that so many motorists were going around the closure barricades that officers were forced to man the site until the high waters receded, which took away much needed manpower during the storms. Pulido adds, "Even though some roadways might not have signs up, with the storms coming and going like they have been, it's hard for the roads departments to keep up. If you see a flooded roadway just turn around – don't cross it. It's not worth your life."
There remain several roadways in the Mother Lode still closed due to the wicked weather. Sims Road is still closed. Red Hill Road from J-59 to Sims Road is also shut down due to high water.
In Calaveras County, Highway 4 is closed at Skyline Drive, above Arnold, because of flooding, according to the CHP. In addition, portions of Hawver Road in San Andreas and Independence Road in West Point remain closed due to flooding and mudslides. Highway 26 is shut down east of Mokelumne Hill due to impacts from the torrential rainfall.