Two Major Mother Lode Medical Centers Tracking For Mid 2019 Openings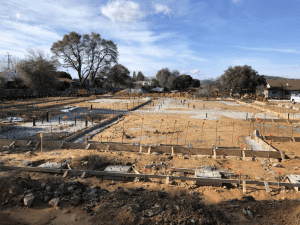 Progress on James Dalton Medical Offices in Angels Camp Jan 23 2019 scheduled to open in mid-2019

View Photos
San Andreas, CA – Construction activities are on pace for a pair of 10,000-square foot health care centers slated to open by midyear on opposite ends of Calaveras County.
Following a quiet groundbreaking last October, excavation, as reported here, got underway last month for the long-awaited James Dalton Medical Offices off Highway 49/Main Street at 590 Stanislaus Street, a Dignity Health Mark Twain Medical Center project.
For those who may not have yet noticed the work site yet, take a glimpse of what is happening behind and up the hill from Froggy's Auto Wash and Lube on Main Street at the intersection with Stanislaus. As you can tell from photos taken Jan. 23 in the image box slideshow, site prep, including concrete pours and footer work is underway.
The new multi-million-dollar center, named to honor in memoriam one of the project's biggest boosters, will contain a range of medical needs-related services, such as primary care, pediatrics, women's health, and tele health. It will also house licensed clinical social workers, rotating specialty care providers, and laboratory outpatient services.
In Western Calaveras A Health & Wellness Mecca
Described by Mark Twain Health Care District (MTHCD) officials as "10,000 square feet of pure health care," progress is easily visible at the Valley Springs Health & Wellness Center site near the intersection of Vista Del-Lago and Highway 26. Its official address is 51 Wellness Way, located on a new street into the facility.
Scheduled for a June or July grand opening, progress has moved forward from walls going up last month to the installation of roof trusses, as shared by the district in a Jan. 23 photo (viewable in the slideshow).
As reported here, the $9 million state-of-the-art equipped center will independently run under MTHCD, a first for the district. Multiple services will be available onsite, from x-rays and blood tests to chiropractic and dental work. Plans are to also make childcare available.