Mid-November Events And Local Camp Fire Fundraisers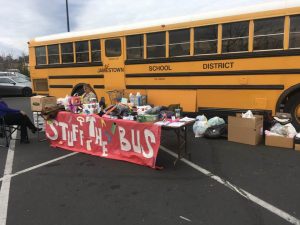 Stuff the Bus for the local homeless Dec 2017

View Photos
The weekend before Thanksgiving has several fall events and opportunities to help communities devastated by fire.
Gold Rush Charter School students will have a truck set up at the Mother Lode Fairgrounds to collect pet products and other items for victims of the Camp Fire. Friday, November 16, from 9:00 am until 7:00 pm they will accept grass hay, hog feed, goat feed, canned dog food with pop top lid, cat food, chicken feed, 5 gallon buckets with lids, and feed pans. Gift cards, gas cards and donations will also be accepted.
Sonora Elementary School is hosting a "Fill the Bus" drive for the Paradise school that burned in the Camp Fire. This Saturday from Noon until 3 PM at the Sonora Elementary Parking Lot located at 830 Greenley Road in Sonora they hope to collect school supplies and/or gift cards. School officials request: paper, pencils, pencil boxes, crayons, colored pencils, pens, washable markers, highlighters, notebooks, Kleenex, glue sticks, binders, dividers, pencil sharpeners, hole-punch, erasers, scissors, tape, rulers, yard sticks, index cards, calculators, backpacks, lunchboxes, staplers, staples and Scotch tape. Details are here.
Angels Camp Veterinary Hospital and Mother Lode Veterinary Hospital will make a delivery of supplies to Butte County this Saturday. Drop off any non-perishable food items (no glass please), animal food for any species, hygiene supplies, water, blankets, pillows, clothing, toilet paper, batteries, flash lights, pet bowls, pet crates, first aid supplies, kitty litter, paper plates and bowls, gift cards, and scrub tops and bottoms. It is recommended that the items be dropped off during regular business hours of 8am-5pm, either at the office in Angels Camp or Murphys.
More details about helping victims of the Camp Fire are here.
At the Four Winds Ballroom at Black Oak Casino Resort this Saturday evening there will be a GALA/Fundraiser Celebrating the pop art icon Andy Warhol. Artwork from national and regional artists will be on display, live music and attendees are encouraged to "dress up" for the event.
The Sonora Moose Lodge will host their Christmas Boutique, Craft Fair, and Bake Sale on Saturday and in the evening there will be a Casino Night theme Fundraiser at the lodge. and at the Calaveras County Fairgrounds catch the Crafty Chicks Road Show Holiday Event.
At the Enrichment Center 101 Hospital Road in Sonora speak with Survivors of Suicide Loss
Summerville High and Connections Visual and Performing Arts Academy will give their last performances of "The Addams Family," a musical about America's darkest family, this weekend. Performance, times and ticket information are here. 
In Columbia at the Fallon House, performances of Away In A Basement: A Church Basement Ladies Christmas by Sierra Repertory Theater will continue. Evening shows start at 7 PM on Friday and Saturday, also on Wednesday, Thursday, Saturday and Sunday catch 2PM performances through December 9.