Cancer Center Clears Final Hurdle To Open Top Floor Services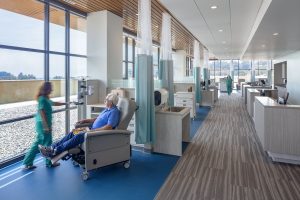 Adventist Health Sonora Health Pavilion and Diana J White Cancer Institute Third Floor Infusion Center

View Photos
Sonora, CA – The Mother Lode's high-tech treatment hub for cancer patients is fully open this week with the debut of its third-floor facilities and services.
It was back in April, as reported here, when Adventist Health Sonora officials held a ribbon cutting for its long awaited, 64,000 square foot Health Pavilion and Diana J. White Cancer Institute, located at the intersection of Mono Way and Greenley Road across from the hospital's main campus.
By early October, two of the pavilion's three floors were in service; fully populated with related equipment and staff, as reported here. Spokesperson Karen O'Brien recounts that, at that point, a board of pharmacy licensing delay hampered the ability to open the top floor, which houses the building's infusion center and medical oncology department.
As of Tuesday afternoon, O'Brien reported all three floors as fully operational, also noting that the old cancer center at the main hospital campus closed. While administrators are currently looking at different ideas to use the space, no plans are in place.
Clearing Hurdles To Provide 'Streamlined' Services Under One Roof
Radiation oncology was the first of the former cancer center's departments to move over. Located on the first floor of the health pavilion, she says that staff has been seeing patients there for the past two months for radiation therapy treatments. O'Brien explains, "The infusion center and medical oncology are pretty dependent on our in-house oncology pharmacy, so they were not able to see patients [at the new building] until the board of pharmacy license was in hand and after that, it took a couple of days to move things over."
With everything fully open and operational at the cancer center, she emphasizes that adult patients will now receive the streamlined experience intended by design with Adventist Health Sonora's health care team providing all the services.
"The space is huge…able to treat more patients and get them in more quickly for their appointments," O'Brien enthuses. She adds that a new radiation oncologist from Adventist Health Memorial Hospital in Lodi, Dr. Travers McLoughlin, is now also onboard to help see more patients more quickly.
In a nutshell, O'Brien says, expectations are to provide expanded, convenient cancer care-related services all under one roof, including primary care, lab draw work, rehabilitation, and diagnostic imaging. Summarizing with smile, she adds, "If you or a loved one is a cancer patient, know that you will be getting all your care at the health pavilion."