Adventist Health Sonora Awaits Go Ahead To Open Third Floor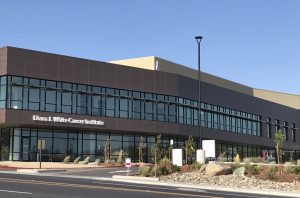 Adventist Health Sonora's new Health Pavilion and Diana J. White Cancer Institute

View Photos
Sonora, CA — Two floors are now fully operating at Adventist Health Sonora's new Health Pavilion and Diana J. White Institute.
Hospital spokesperson Karen O'Brien says, "That includes our diagnostic imaging and radiation oncology on the first floor. 3-D mammography was the final piece of equipment to come online on the first floor there, so all patient services are now available. On the second floor we have our sports medicine and rehabilitation, primary care office, and our walk-in laboratory. They are all seeing patients."
Adventist Health Sonora is unclear when it will be able to open the final floor, but the anticipation is that it will be "very soon." O'Brien notes, "For the third floor, we are still waiting for response on the state board of pharmacy license application, which is needed to operate the oncology pharmacy for the infusion center."
Once that is approved, it will allow for infusion and medical oncology treatments at the new facility, and the opening of the third floor.
The new facility, at the intersection of Mono Way and Greenley Road, has been a busy spot recently. We reported earlier that $245,410 was raised for cancer patients during the September 30 Joie de Vie Gala inside a massive tent constructed in the parking area. Four days later the facility was utilized for Ladies Night Out, an annual event to raise awareness about Breast Cancer.