Domestic Abuser Receives 12 Years Plus 7 to Life For Premeditated Attempted Murder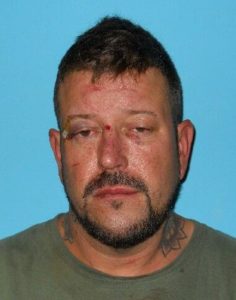 Christopher Clark TCSO Booking Photo

View Photos
Sonora, CA — A Jamestown man faces a decades-long state prison term in connection with a murderous attack on his spouse that led to an eight-hour standoff with deputies.
According to Tuolumne County District Attorney Laura Krieg, this week Judge James A. Boscoe sentenced 42-year-old Christopher Clark to 12 years plus seven years to life in prison in connection with the horrific attack and aftermath that occurred last Oct. 12 at Oak Hills Apartments on Preston Lane, as reported here.
On Sept. 14, as reported here, Clark was convicted on several related offenses, among which were: first-degree premeditated attempted murder; inflicting injury to a spouse causing great bodily injury; false imprisonment causing great bodily injury; criminal threats, and resisting an executive officer with force or violence.
Krieg explains that the first part of his dozen years of prison time covers all but the premeditated, first-degree murder conviction. Upon completing that sentence, Clark will begin his seven years to life sentence.