Ditler Named Principal At Summerville High School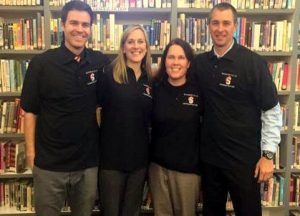 (Archive Photo) Kellene Ditler second from left, with staff members Daniel Atkins, Diana Harford and Steve Sweitzer

View Photos
Tuolumne, CA — Summerville High School did not have to look far to find its new principal.
Kellene Ditler was hired today by the school's board of trustees to replace the recently departed Diana Harford. Ditler will oversee both Summerville High and its Connections Visual and Performing Arts Academy. For the past two years Ditler served as a grade level coordinator at Summerville, overseeing a caseload of student counseling, student discipline, special education and student study teams. Previously she taught at Curtis Creek Elementary School, while also serving as a coach, athletic director, speech and drama director and a leader of RTI implementation (Response to Intervention).
Ditler has 26 years of total education experience. Last year she completed a master's degree in education from Stanislaus State University.
We reported recently that Harford left Summerville to take an administrative position with the Tuolumne County Superintendent of School's Office. She had spent 22 years at Summerville High School.
When school convenes in the fall, there will also be a new superintendent, as we reported earlier that former Calaveras Principal Michael Merrill will step into that role on July 16. Both he and outgoing superintendent Robert Griffith were involved in interviewing Ditler for the principal position.
When reached this morning, Griffith stated, "As people meet each one of these individuals (Ditler and Merrill), and see them in action, they'll know that Summerville is in really good hands for the future."