Updates On Flat And Horse Fires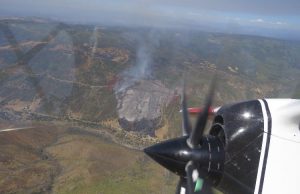 Attacking Flat Fire From Air

View Photos
Update at 6:15pm: CAL Fire officials have the latest word on two fires still being fought in the Tuolumne-Calaveras Unit that sparked over the weekend.
Spokesperson Emily Kilgore shares, "The Flat Fire is currently 65 percent contained and 163 acres. Crews are working in steep rugged terrain and trying to reinforce the control lines. Working against the firefighters right now are high temperatures and low relative humidities but they are making progress."
As for the Horse Fire, she continues, "That fire is still 80 acres and 95 percent contained." She adds, "Both fires are still under investigation and I have no cause information at this time."
Kilgore emphasizes that during intense weather periods it is particularly important if using any equipment to cease doing so before 10 a.m. when fire danger increases, and make sure to check that tow chains are not dragging on the ground where they can easily spark flames.
Update at 10am: Highway 49 has re-opened near the Flat Fire.
Original story posted at 6:10am: Moccasin, CA — Crews made progress overnight building containment lines around the Flat Fire south of Moccasin and the Horse Fire near Copperopolis.
CAL Fire reports that the Flat Fire is 162 acres and 35-percent contained. The forward rate of spread has been stopped. All evacuation orders have been lifted as threats to structures and infrastructure have been mitigated. Click here to view a detailed recap from yesterday of the Flat Fire. Highway 49 is expected to remain closed though from Highway 120 (near Moccasin) to Penon Blanco until 8:30am.
Yesterday afternoon an 80 acre fire also ignited along Stagecoach Drive near Horseshoe Road in Copperopolis. The forward rate of spread was stopped and it is 80-percent contained. The evacuation order along Conestoga Trail has been lifted. Click here to view a detailed recap from yesterday.
What ignited the two fires remains under investigation.
When progress started to be made slowing the two fires yesterday afternoon, some of the resources were diverted to Shasta County to help fight a 1,000 acre fire west of Redding. Many homes have been evacuated and the incident is 20-percent contained. There is also a 7,700 acre fire in Lake County that has resulted in evacuations and the closure of many roads.