County Eyeing Plans For Demo Of Former Strip Club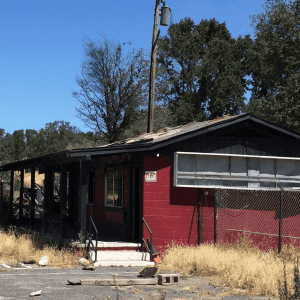 Rosalinda's Gentlemen's Club Complex Post-Fire June 21 2018

View Photos
Sonora, CA –- A demolition is in the works for the blackened, partially destroyed nightclub motel complex that housed Rosalinda's Gentlemen's Club in Jamestown.
As reported here, the Highway 108 establishment near OByrnes Ferry Road went up in flames in the early hours back on March 13. The fire incident was broadly seen as suspicious as it involved the two separate buildings, which are located across a parking lot from each other, however the official determination is not yet released.
Even shadier, the fire broke out less than a week following a multi-agency law enforcement raid on the place on March 1 that shut the business down and at the same time condemned both buildings for numerous health and safety code violations, as reported here.
This week, Tuolumne County Community Resource Agency officials confirm notifications and other related activities are in process but say there is no posted date for demolition. They note the county's cost of actually razing the two buildings would likely take the department's entire $400,000 abatement budget.
It should also be noted that the property is currently caught up in red tape due to overdue taxes owed to the county and the principals are awaiting court dates on the multiple felonies they face relating to the March 1 raid. From Highway 108 passersby can see a small red generic "For Sale" sign duct-taped to the front wall of the motel with a phone number scrawled in black marker.
To view a slideshow of the site as it appeared today, click into the image box.