Investigation Continues Into Arson Fire Behind Sonora High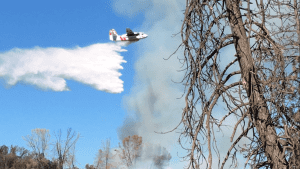 Firefighting Activity

View Photos
Sonora, CA — The Sonora Police chief is sharing a few more details relating to a fire that broke out early this week behind Sonora High School that has been ruled as arson.
In an interview with Clarke Broadcasting this morning about the circumstances surrounding the incident, Acting Chief Turu VanderWiel shares that the investigator who checked the scene had no question about determining that the blaze was intentionally set, versus say, an accidentally dropped match.
As reported here, police received the call Tuesday afternoon while classes were in session and students were kept on-campus while parents were notified. By the next morning, the cause was already classified as arson, as reported here.
While the chief demurred from providing more precise information as to what exactly started the fire because it is part of the investigation, he pinpointed the location as approximately 75 yards up the hillside north of Snell Street, west of the high school property. While he further acknowledges that it is an area with a well-made footpath that teens are known to frequent — and some juveniles were contacted by police as persons of interest — there are no prime suspects as of yet and an adult or adults could have also set it.
"We still have leads to follow and will keep you abreast of the situation as it develops," the chief shares, noting that if arrested, those responsible could face felony arson charges.
He adds that the incident, while worrisome, fortunately did not develop into something far worse. "There is a lot of thick dry vegetation in that area and it could have potentially spread to nearby homes…on the north side of that hill – and obviously, it was right next to the school," he points out. "So we are very thankful for our fire responders who got out there and made quick work of it — they did an outstanding job."