Empire Fire Expands To 1,200 Acres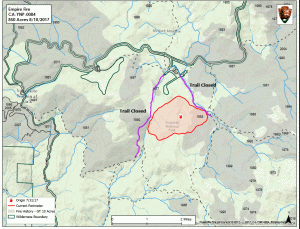 Empire Fire

View Photos
Yosemite, CA — The lightning caused Empire Fire in Yosemite National Park has grown to 1,200 acres.
It ignited on July 31 about a mile south of the Bridalveil Campground and east of the Alder Creek drainage. The fire has been burning through dense pockets of dead and down timber. The fire is being allowed to burnout naturally, where possible, and growth is expected to continue along the northeast and southeast flanks.
Trails remain closed from Bridalveil Creek Campground at the second junction with the Ostrander Trail and from Westfall Meadow to the Deer Camp junction, along Alder Creek. There are no threats to infrastructure at Bridalveil Campground.
There is heavy smoke in areas of the park due to the Empire Fire, as well as the nearby South Fork Fire.
Click here to view a map of the Empire Fire