Update: Containment Reached On Jacksonville Fire and Jumps On Twist Fire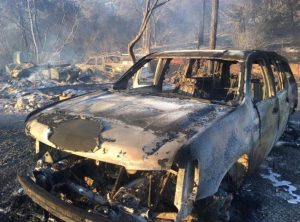 Banks Family lost their home, belongings and vehicles in the Twist Fire on July 30. 2017

View Photos
Update at 5:35 p.m.: CAL Fire report that the Jacksonville Fire that ignited on Saturday afternoon along Jacksonville Road and Jumper Mine Road is fully contained and the acreage remains 690. Firefighters have reached 80 percent containment on the Twist Fire, which ignited on Sunday afternoon on 14700 block of Twist Road, south of Algerine Road, and the acreage is holding at 124 acres. (See below for evacuation and road closure information.) Day 1 coverage is here.
Update at 12:40 p.m.: Tuolumne County Sheriff's spokesperson Sgt. Andrea Benson reports that all mandatory evacuations and advisories have been lifted for the Twist Fire. CAL Fire notes that roads will be open for local residents only.
Update at 10am: CAL Fire reports that all roads closed due to the Twist Fire will reopen at noon today.
Original story posted at 8:25am: Jamestown, CA — Progress continues to be made battling both the Twist and Jacksonville fires in Tuolumne County.
CAL Fire reports this morning that the Twist Fire is 124 acres and 70-percent contained. It ignited Sunday afternoon off of Twist Road, south of Algerine Road. The cause of the fire remains under investigation. Click here to read an earlier story about how the community is rallying behind a family that lost their home.
The Jacksonville Fire, which ignited Saturday afternoon on Jacksonville Road, is 690 acres and 95-percent contained. The cause also remains under investigation.
The Detwiler Fire in Mariposa County remains 81,826 acres and 90-percent contained. Full containment is expected by Saturday.
Also of note, last night firefighters contained a three-acre fire south of Burson in Calaveras County. There were no reports of any homes or structures being damaged.