Community Helping Family Recover From Crushing Twist Fire Loss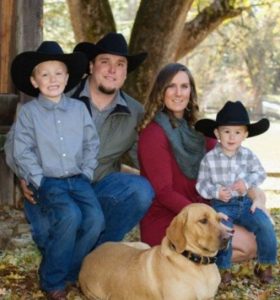 The Banks Family lost their home, belongings and vehicles in the Twist Fire on July 30. 2017

View Photos
Sonora, CA – As firefighters work to contain the Twist Fire near Jamestown, which broke out a day ago and already destroyed one local family's home, the community is rallying right behind them to provide support.
The wildfire, which reportedly ignited just before 4:30 Sunday afternoon on Twist Road south of Algerine Road, quickly took out the home and almost every belonging owned by Clayten and Jamie Banks and their two young sons, Bryce and Bowdie, ages eight and three.
As soon as they heard word of the loss, longtime friends of the Banks family quickly sprang into action. Local contractor and Tuolumne County District 3 Supervisor Evan Royce and his wife Angel, along with Lori Severson and Jamie's sister Jennifer Wong set up a gofundme page Sunday evening and arranged immediate lodging for the family.
Outpourings Of Caring Continue
Earlier today, the online campaign had raised over $17,000 of the initial $25,000 fundraising goal and by the 5 o'clock hour went over the top. Donations ranged from a few to a few hundred dollars from residents, local businesses and even the Twain Harte Fire Department Association, which chipped in $150, noting in its donation posting, "We would like to extend our deepest sympathy for the Banks family. We are here for you."
Speaking with Clarke Broadcasting, Royce shares, "We wanted to be able to help Jamie and Clayten help put themselves back together again after such a devastating loss because there are so many things that they are going to need to get themselves whole again — even with insurance there are so many things." To read more details about the online efforts in place to help out the Banks family, click here.
Donning his county supervisor's cap, he comments, "It is terrifying to look out there and see these fires popping up all over the place…we have all this water — we were blessed with a good winter — but it seems even with that, moisture contents are low and temperatures are high and it is dry…and because of the water there has been a lot of grass and brush [overgrowth] — a kind of formula for this kind of catastrophe. It is so important that people are safe right now. Be careful with equipment, vehicles, cigarettes. People need to be cautious right now – it is not a joke."