Excavator Brings Down Corner Gas Building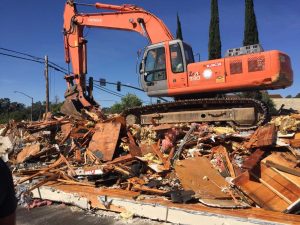 Chevron Station demolished on Mono Way

View Photos
Sonora, CA – The Corner Gas Station building has been reduced to rubble, making way for the City of Sonora's second phase of the Greenley Road/Mono Way Intersection Project.
On Thursday an excavator was used to bring down the two-story building that housed the mini-mart located at 852 Mono Way and remove the debris. As reported in here, the city finalized an agreement with the property owner to purchase the gas station property in April for over $1.6 million. The owner and city had been in negotiations for several years. Talks stalled for awhile last year when the owner accused the city of dragging its feet, which City Administrator Tim Miller denied.
Miller had this reaction to the leveling of the building, "The city is certainly happy to be moving ahead on the project. The next step in the process is Monday night [when] the council will be considering accepting a bid from George Reed to construct the intersection improvements. I expect they will authorize staff to enter into a construction agreement, which will allow them to proceed sometime mid-July and have the project completed by mid-October."
The George Reed bid on the project is for $1.058,012.80, which includes $33,600.00 for additional paving work on Mono Way towards Sanguinetti Road, according to Miller. The carwash and Chevron canopy will remain at the site. The widening of the Greenley Road and Mono Way intersection has been tied to the Sonora Regional Medical Center's adjacent Cancer Center and Outpatient Pavilion construction, which is slated to be completed by the end of the year.