Update: Sonora Names New Acting Police Chief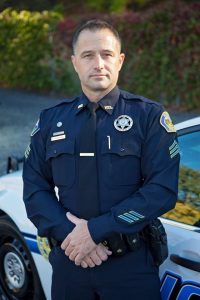 Police Lieutenant. Sergeant Turu VanderWiel

View Photos
Update at 4 p.m.: As reported below, Sonora City Manager Tim Miller revealed that Sonora Police Department Lt. Turu VanderWiel has been hired as Acting Chief. Clarke Broadcasting contacted Acting Chief VanderWiel to get his reaction to his promotion. Happily he stated, "I'm grateful for the confidence that the city places in me to be able to hold this position. I think it is a very important position… and role. Being born and raised here in Sonora, I can't think of a greater honor than to be able to serve my community at that level."
VanderWiel says that no time frame or period was given by the city for him to hold this position. He adds, "It's kind of a trial period. The city still has to decide how to permanently fill the position. If down the road that ends up being me, if it works out for the city and myself, then I'm sure its a consideration down the road. Basically in between chiefs until they decide how they want to go."
Original post at 3:10 p.m.: Sonora, CA — Clarke Broadcasting has learned that a Sonora Lieutenant will take over as the acting head of the department.
City Administrator Tim Miller says that Sonora Police Lt. Turu VanderWiel has been appointed as the Acting Police Chief. He adds, "It was a decision I made. The appointment is a temporary appointment. It will give the city and opportunity to evaluate Lt. VanderWiel as the Chief and still leave open the options for the city to make a decision about how they want to handle a permanent appointment in the future."
Miller adds that the top order of business on the newly released agenda for next week's city council meeting will be to introduce the new acting chief to the public. It is not immediately clear what will come next in process of hiring a permanent chief.
As reported here, last year Lt. VeanderWiel was promoted to second in command and given the title of Operations Lieutenant over the department in February by then Police Chief Mark Stinson, who retired at the end of 2016. At that time, the Sonora City Council voted to hire former Modesto Police Chief Michael Harden to serve as the Interim Chief. However, that contract ended just last week prompting the promotion of Lt. VanderWiel.
Lt. VanderWiel was hired in 2004 to the Sonora Police Department. He has also served as a Tuolumne County Sheriff's Department Deputy before that. Lt. VanderWiel is a Sonora native and graduate of Sonora High School.
Monday's council meeting begins at 5 p.m. at City Hall in the Council Chambers.