New Second In Command For SPD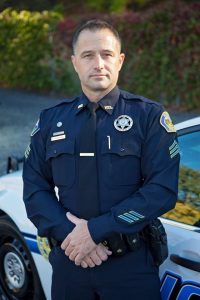 Police Lieutenant. Sergeant Turu VanderWiel

View Photos
Sonora, CA – Sonora's Police Chief gets the go ahead to fill a positions that has been vacant for seven years.
Sergeant Turu VanderWiel was given the title of Operations Lieutenant over the Sonora Police department (SPD). Police Chief Mark Stinson notes the importance of the promotion saying, "This is a crucial position within the department because this is actually the second in command. This keeps the department running because the lieutenant runs the training program within the department. They are also the Public Information Officer among several other high profile duties"
VanderWiel was one of two internal applicants who tested for the position with his score ranking on top, according to Chief Stinson. Seven years ago, the department froze the position for economic reasons splitting the duties between the Chief and two Sergeants. Chief Stinson adds, "This is a good change for the department. This is a position that should have been filled many, many years ago. We've struggled and hopped along without it. Now that the position is filled it is going to allow us to do better supervision of employees and do some other programs that have gone by the wayside."
Lieutenant VanderWiel is a Sonora native and graduate of Sonora High School. He was in the U.S. Army for 10 years and earned his Associates Degree from Pierce College in Washington.
After attending a police academy, he became a deputy with the Tuolumne County Sheriff's Department. There he reached the rank of Corporal. The Sonora Police Department hired VanderWiel in 2004 a year later he rose to the rank of Sergeant.