Between New Arrivals, Expansions, Local Business Is Blooming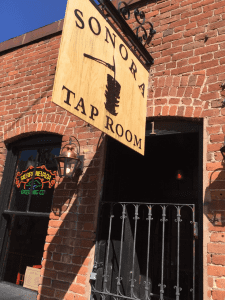 Sonora Tap Room

View Photos
Sonora, CA – Sure signs of a local economic upswing are springing up across Tuolumne County.
In recent weeks, you may have noticed work crews beginning to refurbish the outside of the old Bertelli's Pharmacy (220 W. Stockton St.). Sonora Regional Medical Center officials say it is currently being remodeled to house an Outpatient Pharmacy and Sonora Oxygen and Medical Supply and that the project is expected to be complete by late summer.
Reportedly, work is progressing well on the Health Pavilion and the Diana J. White Cancer Institute, where the "skin" of the building is almost complete and work is underway on rough-in plumbing, electrical and framing. "The Emergency Department and lobby remodels are almost complete, and we are looking forward to wrap the project up in the next month or two," reports spokesperson Lindsay Brewer. Already in operation are five new treatment and three new echocardiogram rooms. Too, the necessary road improvements at Greenley Road and Mono Way are expected to shortly get underway, now that the city and owner of the Corner Gas station have settled a purchase agreement for that property.
Another significant event set for next week is Black Oak Casino Resort's grand opening of its 5,000 square foot casino expansion that notably includes a new, larger and improved Willow Creek Lounge entertainment space, as reported here.
Signs Of A Downtown Resurgence
The bloom of new business is particularly noticeable in downtown Sonora, where several new businesses have sprung up while a few established mainstays have shuffled to strategic new spots. In fact, the Tuolumne County Visitors Bureau recently relocated its main visitors center from Stockton Street to the heart of downtown (193 S. Washington St.) and reports that its walk-in business has exponentially increased. Next Friday (May 12), in the midst of Mother Lode Round doings the center will host its grand opening.
Opening this week, Shiro Ninja Japanese Bistro Bar and Grill (147 S. Washington St.) is owned by Than Shwe and his wife Than Than. You may already know them if you have purchased freshly made sushi at the kiosks they operate inside Angels, Twain Harte or Murphys' Sierra Hills markets. Also nearing its debut, Amala Detox and Tea Lounge (31 S. Washington St.), hung its signs today and is only awaiting its final inspection permit. Geared to locals and tourists, proprietor Laina Vann's e shop provides teas for ailments, ionic foot soaks and readings as well as infrared saunas, among its other offerings.
Last month, locals thirstily welcomed the opening of Sonora Tap Room (1 Linoberg St.), a craft beer and wine bar operated by proprietors Nayland Chappell and Carey Merrill in the space formerly occupied by Cole Video. After a soft opening in January, Yoshoku Ramen Noodle Bar (110 S. Washington St.) is operating in full swing under the ownership of John and Shauna Chin. The space, most recently occupied by Fiona's eatery, was Diamondback Grill's original location. Open since late fall but still relatively new, the Cheesy Winer wine and beer pub/restaurant (181 S. Washington St.) continues to build a following. Owners Aaron and Geneé Boren proffer a cheese-centric menu that includes cheese and chocolate (no, not together) fondues.
Added Downtown Attractions
Two new ladies apparel shops have recently added their wares to the downtown shopping mix. The Bridal Loft (55 S. Washington St.), located next to Sonora Thai restaurant and billing itself as an indie wedding dress and formal wear boutique, is a new venture for Sarah Gordon, who already operates Addictions Spray Tanning and Fashion (128 S. Washington St.). The Pink Zebra (61 S. Washington St.), next to Union Hill Coffee, an apparel and accessory boutique, offers a variety of items for women, juniors and little ones. Those seeking a "mani/pedi" break might venture south a few blocks to the just opened D&D Nails (291 S. Washington St.), located across from Gunn House Motel.
Redeemed Clothing (67 S. Washington St), having moved across the street from its former spot at the corner of Bradford and Washington streets, is now settled into its larger new digs, formerly Backspace boutique. Also finished with making a locational switcheroo is Marianne Wright's Tar Flat fine goods and antiques (104 S Washington St.) at the former Tuolumne County Realty offices. Wright recently sold the building where her store was previously housed (81 S. Washington St.).
Its purchaser, Dennis Overholtzer, who operates Sonora Rentals, has plans with his family to open a bakery in that location later this year. A recent addition to the "lawyers' row" of offices by the courthouse, family law attorney Juley Salkfeld recently hung up her shingle at Sonora's historic Yosemite House (47 N. Washington St.).
As Larry Cope, CEO and director of economic development for the Tuolumne County Economic Development Authority (TCEDA) shares, "Recently there has been quite an upturn in downtown Sonora…more individuals interested in investing…as you have seen from the number of new restaurants and new stores."
Other Business Buzz
He adds, "Even after these openings we have some people right now looking at the few remaining empty spaces…there is kind of a buzz going on, especially with Doug Kennedy's project." Kennedy, whose Trado Restaurant Corporation is currently constructing a multi-million-dollar complex that will include dining, shopping and entertainment space, this week announced plans for a major fall event at the Mother Lode Fairgrounds, as reported here.
Still in the wings, Cope also points to new additions to the Crossroads shopping center: a T-Mobile store and a Super Cuts, both going in behind the Panda Express. As Walmart shoppers enjoy the store's recently completed expansion featuring a new grocery store, Cope says renovations continue on the exterior. Too, he says, Maurices a national women's clothing store chain that has eyed Sonora locations in the past is planning to open at the old Hallmark location.
In addition, construction is moving right along near the Mono Way and Standard Road intersection where a new Les Schwab Tires will be situated.
As reported here, in Columbia, the Stone Mill Center project is now moving forward. In Old Town Columbia, with business picking up, Ebler's Leather & Saddlery Emporium recently doubled its sales space via an expansion to the next door storefront. Kamice's Photographic Establishment has additionally taken over the historic long vacant milliner's store, which is now busily peddling period clothing and accessories.
Cope, at this point, says he and others are busily seeking to engage interested parties in a couple of notably vacant restaurant spaces in downtown Sonora — inside the historic Sonora Inn and in the old Europa Restaurant building. In closing, he adds that he will admit to a handful of specific "exploratory" talks with business opportunity-seekers interested in the former Denny's at The Junction as well as a few spots in downtown Groveland and Tuolumne City.
Take a visual tour of what is happening by clicking into the image box slideshow link.