Event Expected To Attract New Visitors To Downtown Sonora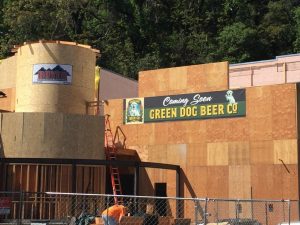 Construction On The Sonora Armory

View Photos
Sonora, CA — The company behind the Bourbon Barrel, and Green Dog Beer Company, has announced plans for an event this fall that could bring new visitors to downtown Sonora.
It will include everything from country music to bull riding and professional barbecuing.
Doug Kennedy with Trado Restaurant Corporation says the "Unruly Country Brew N' Que Festival" will bring together five stand-alone events to the Mother Fairgrounds on September 30. It will include a Kansas City Barbecue Society sanctioned competition, a craft beer and wine garden, bull-riding competition, West Coast corn-hole competition and a multi-act country music concert. The music event is expected to feature four groups, and plans include bringing in additional seating to the fairgrounds, with the capability of hosting 3,000-4,000 people. The headliner will be announced soon, to go along with artists Luke Pell, Chris Brandi and Jackson Michelson.
Kennedy, says, "We can build great restaurants and bars downtown, but we really need to bring new people in to experience what we're doing downtown. We're looking to do three or four big events each year, and they will all be uniquely different."
Kennedy has also announced that his new downtown facility under construction, located on South Green Street, will be known as the "Sonora Armory." In addition to the Green Dog Beer Company and Bourbon Barrel, it will include a retail store, and a newly renovated indoor theater. He says the hope is to open "sometime this fall."
He concludes, "Downtown Sonora is growing and there is a fresh round of businesses getting ready to open. Coming to downtown Sonora, and seeing the energy…it actually is very exciting."