Progress On One Mountain Pass But Others Still Snowed In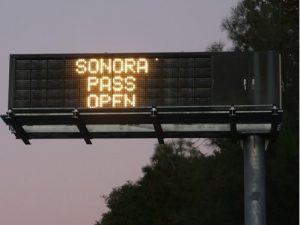 Sonora Pass Sign

View Photos
Tuolumne County, CA – Caltrans has reopened another stretch of Sonora Pass, but 30 foot snow drifts along Ebbetts Pass are challenging crews.
This morning at 7 a.m. Caltrans reopened Highway 108 Sonora Pass up to Kennedy Meadows — just in time for the beginning of Trout Season this weekend. As reported here last week, crews had plowed as far as Clark Road and still had nine miles to go to get to Kennedy Meadows. Caltrans spokesperson Skip Allum remarks, "That's quite a bit of progress they've made over the course of the last week. However, as of now we don't have an ETO [Estimated Time of Opening] of the complete opening of Sonora Pass."
Regardless this comes as great news for the Kennedy Meadows Resort. Owner Matt Bloom says the resort, as well as the Baker and Deadman campgrounds, will open on Friday. Elated he shares, "We're able to get everything open on time for Trout Season [April 29]. Caltrans did a great job of getting the road open. We'll see how long it takes to open the pass, hopefully before Memorial Day Weekend. I think the rivers are going to be higher later in the year as it starts to warm up more. People will have to be careful with high rivers and that sort of thing but we're looking forward to a good season."
Allum says the Memorial Day holiday weekend is always the target for opening all the passes, but it could prove difficult for Highway 4 Ebbetts Pass. He adds, "That has the most amount of work remaining. We've been told by some of our maintenance crews up there that there are some snow drifts reported as high as 30 feet tall…So, we have no ETO as to when Ebbetts Pass or any incremental openings may happen there."
Yosemite National Park, which highest elevations have witnessed a record snowpack, oversees Highway 120 Tioga Pass has no update from last week's report that no opening date had yet been set.  However, as announced on Tuesday, Big Oak Flat Road that connects visitors to Yosemite Valley via Highway 120 will reopen on May 1st after being closed since late February due to storm damage.