Big Oak Flat Road To Re-Open In Yosemite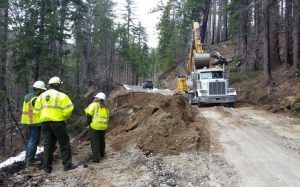 Yosemite National Park, along with the Federal Highway Administration and contractors, are working to repair the Big Oak Flat Road in Yosemite National Park. There is no estimated reopening date for the road, one of the major routes to Yosemite Valley.

View Photos
Yosemite, CA — Yosemite National Park officials have announced long-awaited plans to re-open Big Oak Flat Road, the extension of Highway 120, in Yosemite National Park.
Yosemite Ranger Scott Gediman confirms that the road, which has been closed since late February, will open to vehicle traffic at 5am on Monday, May 1st.
He says that construction work will still be ongoing, so travelers should prepare for single lane closures, and correlating delays up to 15 minutes. In addition, the Big Oak Flat Road will be closed overnight into the near future, from 7pm-5am, in order to finish the repairs.
Gediman shares, "We want to express a tremendous amount of support to folks in the gateway communities along the Highway 120 corridor. We certainly understand that the closure has had a real tremendous impact on Groveland and Sonora, and everywhere in between.  Everyone in the community, from business owners to elected officials, has been incredibly supportive, and understanding, of the efforts to get the road reopened. We want to acknowledge and thank everyone for their understanding."
Over 200 ft. of Big Oak Flat Road was impacted by late winter storms. The atmospheric river weather events gave new life to an underground spring, causing saturated heavy soils under the road to slide downhill.
Currently, fees to enter at the Big Oak Flat Road entrance are waived, due to the road closure eliminating access to Yosemite Valley. Regular fees will take effect again on May 1st.