Digging Out The Mountain Passes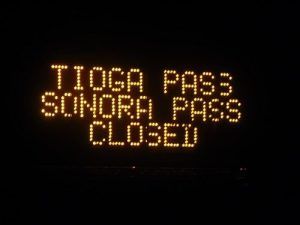 Passes Closed

View Photos
Sonora, CA – This year's record snow fall has kept Caltrans and Yosemite National Park road crews busy working to open the Mountain Passes to travelers and are finding stumbling blocks along the way.
Caltrans oversees Highway 108 Sonora Pass and Highway 4 Ebbetts Pass. The latter is expected to be cleared to the east end of Lake Alpine by Monday, according to spokesperson Rick Estrada. He updates that along Sonora Pass crews have removed snow up to Clark Fork Road, which is five miles beyond Eagle Meadow Road where the roadway is currently closed. Estrada adds that it is still about nine miles to Kennedy Meadows Road, the destination crews hope to reach in time for the opening of Trout Season (Last Saturday in April). Crews of four to five members are using heavy equipment to clear the passes including two blowers, a dozer, a grader, a backhoe, and a loader. Estrada points to unknown obstacles that can slow down crews, "They [road crews] hit 6,000 feet on state route 108 and they came across a culvert that had been plugged during the winter. It was diverting water into the roadway. They cleared out the culvert and then realized the road was pretty torn up and it needed to be fixed."
Yosemite National Park crews cover Highway 120 Tioga Pass. Park spokesperson Jamie Richards reports that standing snow in the Tuolumne Meadows area has exceeded 100 inches. She adds this is the highest snowpack year on record for the park's highest elevations. For that reason safety is a number one concern, Richards explains, "We have very trained personnel out there scoping out avalanche dangers…Park staff are already working on Tioga Pass and Glacier Point Road. We don't have set dates yet of when either will open."  Additionally, Richards adds that there is still no estimated opening date for a section of Big Oak Flat Road that has been shut down since late February due to winter storm damage, as earlier reported here. That stretch of road connects visitors entering the park via Highway 120 to the Yosemite Valley.  However, the Big Oak Flat Entrance remains open and to entice visitors the entrance fee at the gate is being waived.
Both Caltrans and Yosemite acknowledge that it is critical to reopen the passes as soon as possible as the tourists bring a big economic boost to the surrounding communities.