End of April Weekend Events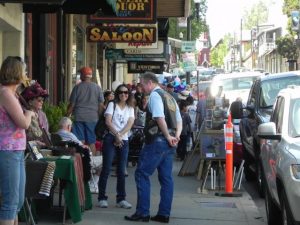 Sonora Spring Festival

View Photos
Many events are planned for the last weekend of April, and the weather forecast calls for sunny weather.
The streets of downtown Sonora will be filled with pedestrians, arts, music and more this Saturday as the annual Sonora Spring Festival returns to Washington Street. Sheala Wilkenson, City of Sonora Events Coordinator, was featured in yesterday's KVML "Newsmaker of the Day" as detailed here.
Catch the weekly Old Timers Museum walking tour of Murphys on Saturday. View a map of where to drop off your unused or expired prescriptions or over the counter medications in baggies out of their original containers in Sonora as part of National 'Take Back Drugs Day' this weekend here.
The 2nd annual Summerville FFA and Summerville Trap Club Trap Shoot Fundraiser is also on Saturday April 29th. Details are here. Jamestown Elementary is hosting a Rummage Sale with all proceeds to help pay for the Jamestown Elementary 8th grade class end of year activities. Details are here.
This weekend Sonora High School students will continue performances of Beauty and the Beast. As detailed here performances began on Wednesday and will continue through Saturday in the Sonora High School Auditorium.  Sierra Repertory Theatre continues its performances of NOISES OFF at the Fallon House in Columbia and Murphys Creek Theater is performing Speed-the-Plow by David Mamet.
Come to Tea with the Rabbit and Me is an Alice in Wonderland themed event put on as a Aronos Club fundraiser for Columbia College Scholarships and other community outreach in Tuolumne County. Details about the Sunday event are here.
Columbia College will present its spring concert "Symphony of the Sierra" at 3:00 p.m. on Sunday, April 30th in the Dogwood Theater. Details are in our event calendar here.