Motorists May Notice Some New Fencing Along HWY 108 in Sonora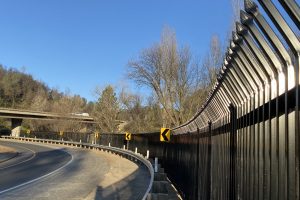 Fencing erected on HWY 108 eastbound off-ramp onto Stockton Road in Sonora

View Photos
Sonora, CA – Travelers along Highway 108 and Mono Way may have noticed some tall fencing put up, all near former homeless camps.
The fences are made of wrought iron and are 7 feet high. On Thursday, crews began installing the barriers along the Highway 108 eastbound off-ramp up to Stockton Road. That is near the former Camp Hope that was shut down last year after the City of Sonora and Caltrans joined forces, citing ordinance violations and health concerns for its closure, as earlier reported here. The two also worked together in 2021 to get fencing put up around a Caltrans property on Mono Way near the Greenley Road intersection, where fire was a concern, as detailed here. The third location is behind the Lowe's and Walmart stores along Highway 108.
A Caltrans Emergency Director's Order issued about a year ago called for the fencing in several counties, including Calaveras, San Joaquin, Stanislaus, and Merced counties. The installation began five months ago for protection, according to District 10 spokesperson Rick Brewer, who stated, "We certainly don't want anybody walking onto a highway where they could be injured or hurt. They're meant to protect the traveling public, individuals and natural resources."
Brewer did not have an exact cost for the fencing but says it was paid for out of the Caltrans budget rather than through grants.