HWY 140 In Mariposa County To Partially Reopen Tuesday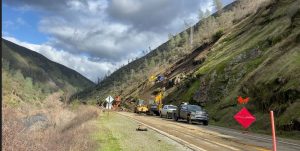 Caltrans crews work to remove a landslide on HWY 140 in Mariposa County

View Photo
Mariposa County, CA – After a rockslide closed a section of Highway 140, Caltrans will partially reopen it tomorrow that accesses Yosemite National Park, but motorists can expect long delays.
Caltrans reports, "Crews are making excellent progress clearing the slide and stabilizing the slope."
The rocks came tumbling down on Sunday, January 15th, temporarily closing Highway 140 near Briceburg and closing the roadway from the Bug Hostel to Cedar Lodge between Midpines and El Portal, as earlier reported here. Caltrans advised that "clean up on the slide is ahead of schedule," as this past Sunday crews began hauling material away from the site. They added that barring any setbacks, one-way traffic control will be in place from 6 a.m. to 7 p.m. daily, beginning Tuesday, Jan. 24, until both lanes of the highway are fully reopened. Caltrans warns that travelers "should expect extended delays."
Even with the early partial opening of the highway, Caltrans officials relay, "There is no change to the two-week estimate of fully reopening both directions of Highway 140."
Motorists are advised to use alternate routes to access Yosemite National Park, like Highways 120 West or 41 South.