Tuolumne County's Storm Damage Keeps Piling Up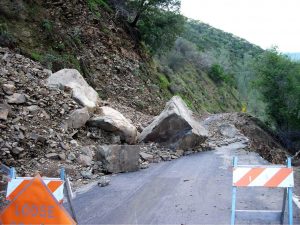 Archive Photo - 2017 Rockslide On Marshes Flat Road

View Photos
Sonora, CA — Tuolumne County road crews have been exceptionally busy over the past several days, according to the leaders of the Community Resources Agency.
Tuolumne County CRA Director David Gonzalves and Deputy Director of Roads Duke York gave an update to the Board of Supervisors this morning. Gonzalves noted that road crews are attending to several cases of flooding and road failures around the county. Many hard hit areas are being monitored with hopes that conditions do not worsen. Some of the problem areas are Kewin Mill Road, Evergreen Road, Red Hills Road, Sims Road and Wards Ferry Road. Roads that were attended to earlier and fixed include parts of Tuolumne Road and Italian Bar Road. This in addition to the removal of a portion of Bonds Flat Road for the opening of the Don Pedro Dam spillway.
In addition, there was earlier storm damage in January, totaling millions of dollars, to areas like Marshes Flat Road and Italian Bar Road.
Referencing the multiple storms over the past couple of months, York said, "An issue is that the failures that we had at the very beginning, with Marshes Flat and Italian Bar, we're monitoring those during each of these storm events, and they're not shrinking. I guarantee you they are getting bigger, and the costs are going up as the rain continues to fall."
There is not a total estimated dollar figure when it comes to damage. Representatives with the California Office of Emergency Services have been in Tuolumne County over recent weeks to view the storm impacts. Tuolumne County will be hoping for state and potentially federal revenue to help cover the majority of the costs for the repairs.