New Dollar General Store Going Up In Calaveras County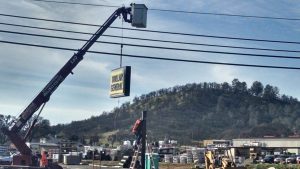 Dollar General sign going up as construction on the store is underway off Highway 26

View Photos
Valley Springs, CA — A crane lifted the Dollar General sign onto a pole Friday at the site where construction is underway in Valley Springs as seen in pictures in the upper left-hand image box.
The 9,100 sq. ft. building sits on a little more than an acre at 116 Riley Street off Highway 26 behind the Sender's Market Ace Hardware store.  A blue print of the plans shows (upper left-hand image box) the design of the store and an additional parcel of more than 33,000 sq. ft.  of space for sale or lease on the property. SimonCRE out of Scottsdale, Arizona is overseeing the project. The company does not have a completion date for the building listed on its website.
Of note, other Dollar General stores in the Mother Lode have been met with strong opposition. As reported here in December of last year, a store proposed in the Don Pedro area was rejected by the Tuolumne County Planning Commission but appealed by the developer to the Board of Supervisors, which have schedule a special meeting on February to decide the stores fate. The meeting is on the 7th at the Don Pedro High School beginning at 6 p.m.
Another store proposed in the Columbia area was ultimately denied after a packed hearing led to a unanimous no vote by the supervisors in February, 2016 as reported here.