Tentative Date Set For Dollar General Appeal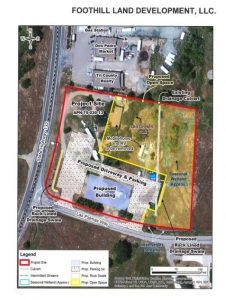 Don Pedro Dollar General Proposal

View Photos
Sonora, CA — The Tuolumne County Board of Supervisors are planning to hold a special meeting in February to decide the fate of a proposed Dollar General store in Don Pedro.
Around 300 attended a Planning Commission meeting in November at Don Pedro High School, when the plan was denied. In order to be close to the project location, and to house another big crowd, the county will again ask officials at Don Pedro High School to play host for the special meeting on February 7 at 6pm.
The store developer, Joe Dell, was on hand for today's meeting and requested that the Supervisors allow him an adequate amount of time to provide an overview of the project at the special meeting. At the Planning Commission meeting he was only allowed three minutes. He noted that there's "a lot of things in motion being compiled before the meeting" and he would like extra time to lay out the details.
Attorney George Harper, representing the Don Pedro Market, came up immediately afterwards and requested that the main opposition group (Don Pedro Market), also be granted additional time to speak, assuming Dell's request is granted. The Board of Supervisors collectively agreed to allow the developer and the main opposition 10 minutes each to state their cases on February 7. All comments from the general public will then be limited to three minutes.
It is noted that only four Supervisors will vote on the appeal. At today's meeting, District Four Supervisor John Gray stated, "In an abundance of caution I recuse myself from deliberation on the Lake Don Pedro Dollar General project. My partner represents the owners of a piece of property across the development that the developers have expressed an interest in."
The developers will need three votes in favor of the project to allow it to proceed.